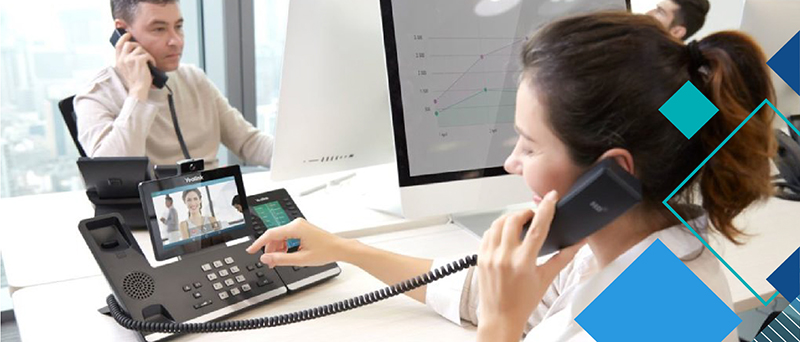 Every business starts with a connection between the company and the customer. The effective, flexible telephone system can be the next step to boost your customer service, attracting more customers. If you are looking for a system like this, but don`t know where to begin, here we answer some of the most frequent business phone questions.
Do you need a telephone system in 2020?
Nowadays, when most of the companies operate through websites and social media, you might think that there is no place for telephone communications anymore. In fact, we need it more than ever. As the business is growing, employees have to communicate with each other quickly and effectively. Most of the customers like to get additional information on the phone.  So our answer is 'Yes', businesses do need a telephone system.
What is the difference between the types of telephone systems?
There are three main types of telephone systems:
 traditional telephone system, that installed at your office (PBBX);
VoIP system hosted on your premises;
VoIP system hosted on the cloud and uses the internet to make the calls.
The main difference between them is the cost, level of security, relying on the internet connection and the available features.
What is VoIP?
Cloud phone systems (also known as VoIP) provides the full functionality of the traditional phone system, but without the cost for physical supply. Instead, your provider will be responsible for call routing as well as hardware and software maintenances. VoIP is a great decision for the start-ups, as they require minimum investment and maintenance. But don`t worry – when your company starts to grow, the telephone system will change with you.
Which type of telephone number I should choose?
The telephone provider can supply you with a "non-geographical" phone number as a part of a VoIP system together with some added features. Your default phone system could be an office phone, but at the time when you are out of the office, it can be your mobile phone. The flexibility of call routing is one of the great features of the VoIP system.
You can find out more about the telephone number in our recent article.
What is the most cost-effective system?
The traditional phone system is expensive to maintain, and it has a high monthly charge. While your business will grow, the telephone system going to hold you back: for example, it has a maximum number of handsets.
On the other hand, VoIP systems have a lot of useful features, such as call recording, advertising on the hold, data connection and etc. To make your business successful, you have to upgrade your telephone system first. It will boost your sales, save your money and time, and improve customer service.
If you have any questions about your telephone system, please give us a call on 0345 812 3800 or email  info@touchblue.co.uk, and our team will help you.